Mapping Portal Development
With healthcare in the news every day, wouldn't it be nice to have current, unbiased data at your fingertips to help you visualize how these challenges may impact the nation or your community?

Using our existing mapping portal as a template—complete with our 15 provider-level datasets, healthcare workforce, demographic, health determinants/indicators and nine mapping tools—we'll work with you to create a customized mapping interface to help your stakeholders and staff visualize solutions to healthcare issues.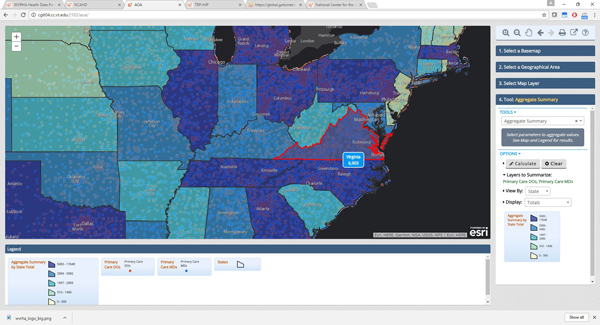 Mapping portals are a cost-effective way to display your data along with our workforce data on the internet to your stakeholders and to the public. We'll work directly with you to create a mapping portal that has your branding and data to be able to answer the following questions:
Is there equitable disparity across all of the professions in rural vs. urban workforce distribution?
Where are the areas in the state with higher patient populations with multiple chronic diseases?
How different are the socio-economic determinants in my area of concern or across the state?
How will aging workforce impact access to care?
Are healthcare training opportunities available in rural areas?
What is the distance from my clinic to the hospital?
What is the service area around the hospital/clinic?
How many people are potentially served within 45 minutes or 45 miles of a healthcare facility?
How many dentist or dental hygienists are within 25 minutes of my town?
► View more information about NCAHD's Internet Mapping Portals
► If you have a feature you would like added to your portal, please Contact Us!
---