Portals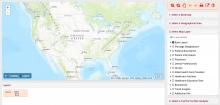 NCAHD, with other stakeholders, has created a FREE internet-mapping portal to demonstrate the type/quality of healthcare workforce data that our center can provide through our products and services. Within the portal, you have the ability to visualize multiple datasets interactively, perform distance analysis, download aggregate forms of both healthcare workforce and demographic data, and create simple maps. We can use this portal as a template and work with you in building a customized internet portal interface that includes your own data and branding (logo, etc.) to make the portal unique to your needs.
Please contact us for a free half-hour webinar on how to use the portal and discussion of what our unique internet-mapping portal can do to meet your specific needs.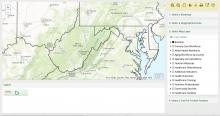 It is the mission of the West Virginia Health Association to advocate for empowering all West Virginians to advance their quality of life, well-being and access to excellence in rural health care. In order to fulfill our mission, WVRHA has developed their basic free to all health information portal to provide access to up to date West Virginia healthcare workforce supply and demand data, demographic, socio-economic, health outcomes, political and other administrative data.
AT Still Portal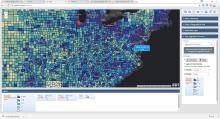 Serving as the professional family for more than 104,000 osteopathic physicians (DOs) and osteopathic medical students, the American Osteopathic Association (AOA) promotes public health and encourages scientific research. In addition to serving as the primary certifying body for DOs, the AOA is the accrediting agency for all osteopathic medical schools and has federal authority to accredit hospitals and other health care facilities. The AOA's mission is to advance the philosophy and practice of osteopathic medicine by promoting excellence in education, research, and the delivery of quality, cost-effective health care within a distinct, unified profession.
In 2013, NCAHD partnered with the American Osteopathic Association to create a unique mapping portal to support their membership and advocacy programs.  Through their portal, members, state Osteopathic Associations, Osteopathic Medical schools and other stakeholders have the capacity to view the distribution of DO's and their medical education programs along with the allopathic programs, health outcomes, demographic and other data important for workforce planning.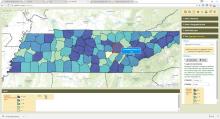 Tennessee Rural Partnership (TRP) was founded in 2006 by four state medical schools, the Rural Health Association of Tennessee, and other associations/stakeholders representing rural health in Tennessee. Its purpose is to address the increasing challenges of providing healthcare in rural and underserved areas across the state by assisting in the recruitment, placement, and retention of physicians and other health professionals. In 2012, TRP became an operating subsidiary of the Tennessee Hospital Association (THA). TRP works with THA to integrate our overall mission to fulfill the workforce needs of rural and underserved communities in our state.
In 2010, NCAHD partnered with the Tennessee Hospital Association in building the Tennessee Health Information portal (THIP) for use by their hospital members and staff in supporting the identification and placement of rural physician providers throughout Tennessee.