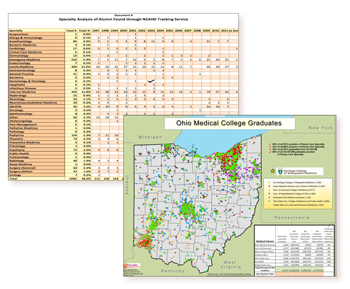 The National Center for the Analysis of Healthcare Data provides support to find your alumni, grow your residency program, and assist with research and proposal development. The center has years of national physician data (MD, DO and 15 other healthcare providers) from each state licensure board to provide the base for services and mapping products in the healthcare field.
"In continuing our commitment to take our profession from good to great, we have made investments in the resources to provide these affordable services to your college."
- Dixie Tookie-Rawlins, DO, President and Provost, VCOM
Standard Package
$7,000
Outcomes Mapping – national and target state maps showing home location of current students and all graduates with analysis on proximity to rural and underserved areas
Alumni Tracking – validation of existing alumni database, details on alumni practice specialty and location and missing alumni (first 1,000 alumni are included)
Optional Packages
Advocacy Package
$800-$1,100
For your state level advocacy, a map showing the distribution of your current students and/or graduates relative to 113th congressional districts and state legislative districts. Table on map with per district distribution (3-6 maps)
By state, a map showing how your school impacts the state's ALL Physicians and Primary Care workforce (4 maps)
By state, distribution of your graduates relative the other physicians in the state with comparative analysis of those practicing in primary care, rural and underserved (1 map)
Economic Impact Studies Package
$8,000-$15,000
In partnership with the National Center for Rural Health Works, the direct and secondary economic impact that your school has upon the school's service area and/or state will be measured using your construction costs, staff, operating costs, student and visitor spending with multiple reports of the results provided in short timeframe. Core training sites economic impact analysis is optional. Maps showing physician workforce and primary care economic impact included.
Education Planning Package
$600-$900
By state, a list of all of the potentially eligible hospitals in your target area with workforce, financial, patient volumes, percentage of medicare utilization and shortage designations (spreadsheet and map)
By state, a list of all potential physicians (MD, DO and by specialty) to support your core training/residency programs development (spreadsheet and map of current MD, DO by specialty)
By state, a map of all residency programs (ACGME and AOA) and number of slots per site (map with table listing residency programs/slots)
Map of current OPTI hospital sites with analysis (map with table listing programs)